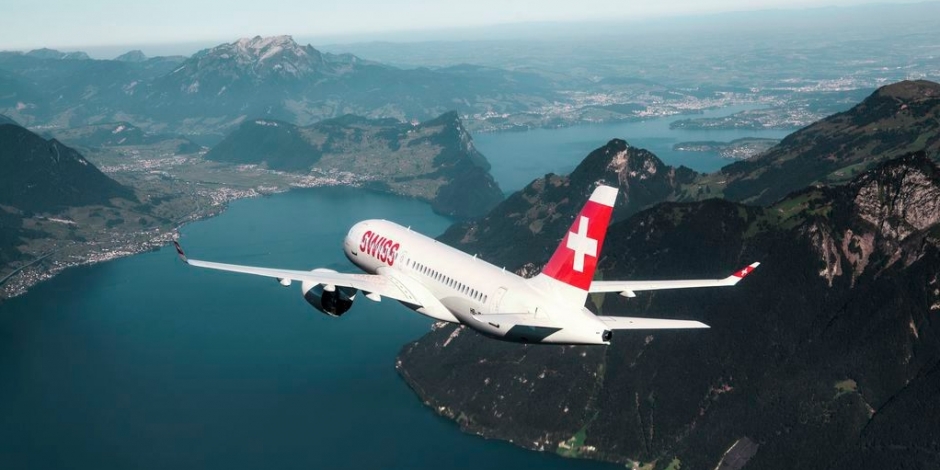 Swiss International Air Lines
Swiss International Air Lines (SWISS) ist die Fluggesellschaft der Schweiz. Sie bedient ab den Landesflughäfen Zürich, Genf und Lugano weltweit über 100 Destinationen in 44 Ländern.


Mit einer Flotte von rund 90 Flugzeugen befördert SWISS jährlich knapp 18 Millionen Passagiere.
2018 erwirtschaftete SWISS mit 9000 Mitarbeitenden einen Umsatz von über CHF 5 Milliarden.

Als Fluggesellschaft der Schweiz steht SWISS für deren traditionellen Werte und verpflichtet sich zu höchster Produkt- und Servicequalität.
Ihre überschaubare Größe ermöglicht es SWISS, näher an ihren Gästen zu sein und sie individueller zu betreuen.

Ab Deutschland bietet die Schweizer Airline im Codeshare mit Lufthansa und Germanwings über 80 tägliche Verbindungen in die Schweiz an.
Von folgenden deutschen Flughäfen können Passagiere zum SWISS Drehkreuz Zürich fliegen: Berlin, Düsseldorf, Dresden, Frankfurt, Hamburg, Hannover, Köln, Leipzig, München, Nürnberg und Stuttgart.

SWISS engagiert sich auf verschiedenen Ebenen nachhaltig für den sorgsamen Umgang mit Ressourcen und sieht verantwortungsvolles Handeln gegenüber der Umwelt als Bestandteil ihrer Unternehmenskultur.

Als Teil der Lufthansa Group und als Mitglied der Star Alliance hält SWISS an ihrer Mission fest, als Qualitätsairline die Schweiz mit Europa und der Welt zu verbinden.

We fly to: Munich (MUC) Stuttgart (STR) Nuremberg (NUE) Dresden (DRS) Bremen (BRE) Leipzig Halle (LEJ) Hanover (HAJ) Dusseldorf (DUS) Hamburg (HAM) Frankfurt (FRA)

Contact details for BARIG members

These details are for

BARIG members

only, please

login

to view.

Jobs & internships

Any jobs or internships currently available at Swiss International Air Lines are listed below. Follow the link for all vacancies from all the BARIG members and business partners.