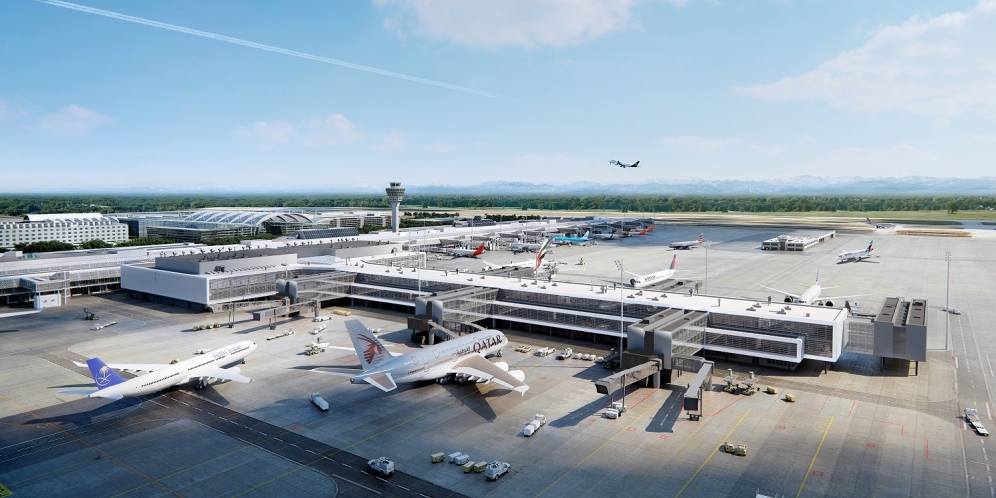 Munich (MUC)
With a passenger volume of 31.6 million in 2022, Munich Airport has regained two-thirds of its record-breaking pre-pandemic result from 2019 (47.9 million) and ranks ninth among European airports in terms of passengers. MUC is the first five-star airport and one of only two A380 bases in Europe.

MUC's catchment area – one of Europe´s prime business locations

High density of global players from high-profile industries such as automotive, IT, insurance, etc.
Nearly full employment
Highest purchasing power in Germany

27.2 million residents in Munich Airport's catchment area

0 to 60 min: 4.3 million
61 to 120 min: 7.4 million
121 to 180 min: 15.5 million

Munich, Bavaria and the Alps

Year-round tourist hotspot full of highlights like the Oktoberfest, the Alpine landscape, romantic castles, etc.
One of the world´s top 10 locations for city trips
Most overnight stays of international visitors among German states

MUC – the ideal gateway to serve this prosperous market

Europe's first Five-Star airport
High operational reliability as one of the world's most punctual hub airports
Professional, award winning sales and marketing team, to successfully establish your services to Munich

Marketing

Sales and marketing activities – B2B and B2B2C outgoing

Permanent contact with more than 6,000 travel agents and tour operators across our catchment area.
Exemplary activities: mailings, newsletters, events, trade fairs, sales calls etc.
Annual Munich Exchange event to bring together airline representatives for discussing cooperation opportunities.

Sales and marketing activities – B2B incoming

Excellent network with touristic partners in Munich, Bavaria and the Alpine region to jointly promote the area's touristic potential in your home market.
Exemplary activities: newsletters, trainings, events etc.

Marketing activities – B2C

Promotion of new airlines and routes through the airport's communication and social media channels.
Exemplary activities: travel blog (travellers-insight.com), travel portal, targeted media and marketing planning with advertising partners and agencies.

Press

Planning and implementation of press activities.
Exemplary activities: press releases, trips and conferences.

Freight

MUC – an expanding Cargo gateway

Southern Germany accounts for approximately 40% for Germany´s total Air Cargo Volume (Export + Import)
"Fast in – fast out" – MUC offers short ways and efficient handling
MUC's Cargo area still has room to expand!

General Information

Airport Opening

"Franz Josef Strauß" 17 May 1992

Airport Operator

Shareholders

Free State of Bavaria 51 %
Federal Republic of Germany 26 %
City of Munich 23 %

Location

28.5 km north-east of the center of Munich, the Bavarian Capital

Road and rail network to the airport

Direct access to the highway – A92/A9
Excellent connection to Munich by train (suburban train) – S1/S8

Parking areas

Six multi-storey car parks, six underground car parks, parking areas for vacationists and visitors with a total of 34,000 parking spaces, thereof approx. 22,100 covered parking spaces

Runways

Two parallel runways, 4,000 m long and 60 m wide, 2,300 m distance between the axes, staggered by 1,500 m, ILS/CAT IIIb
3rd runway: 4,000 m long, planned

Terminal 1:

Oneworld, Skyteam and non-aligned airlines

Capacity: 15 mil. passengers per year. Currently under construction and soon with a higher capacity up to 20 mil. passengers per year
Total floor area: 198,000 sqm
60 aircraft parking positions

Terminal 2:

Lufthansa, Star Alliance and other Lufthansa partner

Capacity: 25 mil. passengers per year
Total floor area: 271,400 sqm
75 aircraft parking positions

Satellite:

Lufthansa, Star Alliance and other Lufthansa partner

Capacity: 11 mil. passengers per year
Total floor area: 125.800 m
Additional 27 aircraft parking positions

Cargo Facilities:

Cargo terminal

Gross floor area: 115,000 sqm
Floor space of cargo terminal: 53,000 sqm
Parking positions for 7 B747-400F or 14 smaller aircraft

Freight Forwarders Building, 1st and 2nd module

Area of 32.000 sqm
Transshipment capacity of 530.000 tons a year

Border Inspection Post & Animal Station

Floor area: 1,500 sqm
Separate handling areas for human consumption, non human consumption and live small animals
Can be expanded into a Perishable Centre in a modular manner

Express Center

Area: 4,400 sqm
Facility to be used exclusively by DHL, FedEx and UPS

Major Awards:

Premier Traveler: "Best Airport in the World 2015"
Skytrax: 14x "Europe´s Best Airport"
Air Cargo World: 2x "Best Cargo Airport in Europe 100-399,999t"
Routes: 12x "Airport Marketing Award"

BARIG members flying from Munich (MUC)

Jobs and internships at Munich (MUC)

The BARIG members and business partners have the current jobs and internships available.