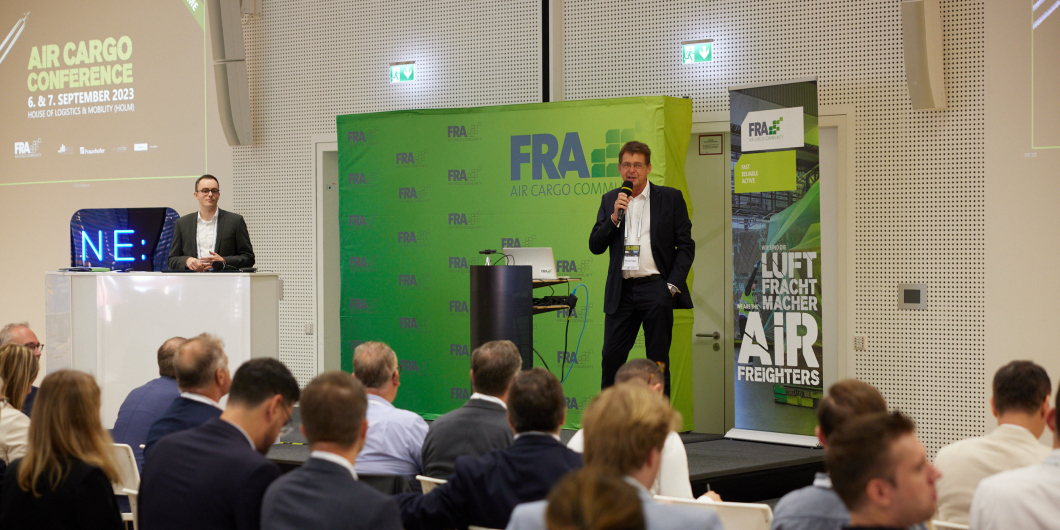 Air Cargo Conference 2023
"We are cargo!" With these words, Michael Hoppe jointly opened the 8th Air Cargo Conference, together with the entire cargo community, emphasizing collaboration and interaction among all participating companies and stakeholders. As part of the little stand-up exercise, the participants were asked to meet and greet their neighbors in order to motivate and initiate exchange.
The Air Cargo Conference 2023, which was organized by Air Cargo Community Frankfurt e.V. (ACCF), Frankfurt University of Applied Sciences, Fraunhofer Institute, HAUS61, and Hessen Aviation, took place at the House of Logistics and Mobility (HOLM) on September 06 and 07, providing a versatile program and many interesting guest presentations on topics such as autonomous logistics processes, airport infrastructure developments, and innovative ways of air cargo handling.
According to BARIG Chairman and ACCF Executive Board Member Michael Hoppe, "we see that cargo and logistics companies are open and committed to change and are transforming their business processes, enhancing their supply chains, and upgrading their business models." In an exclusive interview with Cargo Forwarder Global prior to the conference, he spoke about the status of the cargo industry from the carrier perspective. At the event itself, he presented and explained the airlines' points of view in front of leading cargo and aviation representatives, not only during his opening speech in the conference room, but also in many fruitful conversations during networking breaks.
Has the cargo hype during the COVID-19 pandemic vanished? What growing trends and developments are going on in cargo and aviation at the moment? As Ashwin Bhat, CEO of Lufthansa Cargo, stated in his keynote speech: "there are not just challenges, but also new opportunities." Despite the currently decreasing freight volumes, air cargo business is still remaining above pre-pandemic levels. He emphasized that, in future, we have to concentrate on five megatrends in order to strengthen Germany's position on the international air transport market: globalization, e-commerce, digitalization, sustainability, and the people who keep our business going. At BARIG, we are pushing these topics together with our airlines in the Infrastructure as well as Air Cargo & Logistics Committees.
Further topics on the agenda of the conference included: the use of artificial intelligence for delivery predictions, the use of "drobots" in warehouses, autonomous cargo loaders, and the potential of electric aviation and "eVTOL" jets for air freight. All in all, the Air Cargo Conference 2023 demonstrated that the whole cargo community is standing together, seeking smart and innovative solutions for the optimization of processes and the recruitment of qualified staff for the logistics sector. We appreciate the collaboration with the Air Cargo Community Frankfurt e.V., where we are representing our air cargo airlines, and are looking forward to further driving cargo topics together!
Interview Cargo Forwarder Global