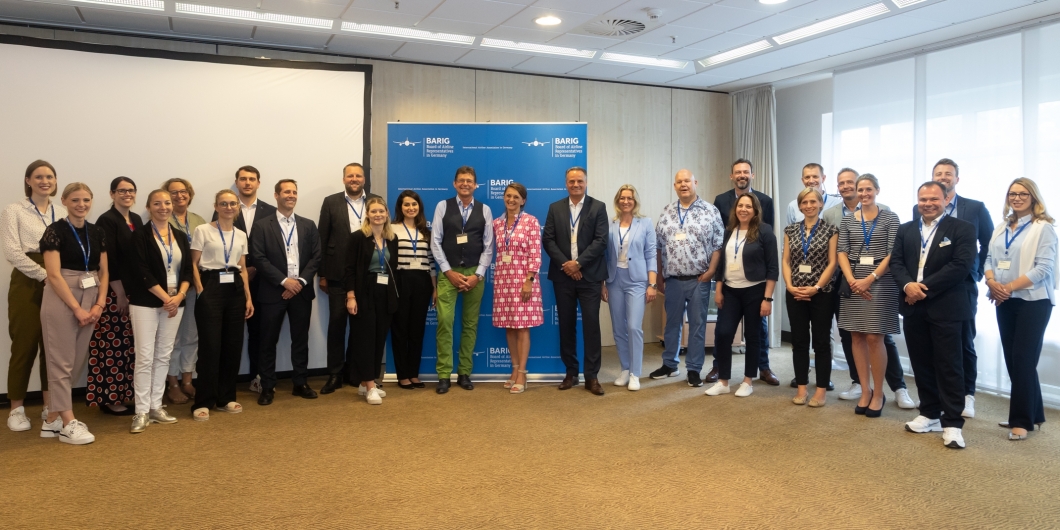 First BARIG Business Partner Conference & Summer BBQ
At our recent Business Partner Conference and our joint BBQ get-together at the Dorint Hotel Frankfurt-Niederrad on June 28, 2023, we enjoyed many networking opportunities and future-oriented conversations within our airline and partner community.
In the conference room, our business partners were given an overview of the numerous BARIG communication formats and channels which can be used to discuss and drive cross-industrial topics together with the airline community. Subsequently, Mrs. Stephanie Hackenholt, Product Owner Customer Sustainability at BARIG's business partner Lufthansa Industry Solutions, presented a special keynote on possibilities, options, and ideas to take up sustainability actions in the industry.
After the formal part, we enjoyed a culinary barbecue that was in line with the sustainability topic already discussed in the conference room. In addition to the Dorint Hotel which provided vegan and vegetarian buffet options, Lufthansa Cargo's "Fry to fly" food truck also stopped by and offered delicious French fries. Their used frying oil will be used afterwards to produce biofuel and contribute to making aviation more CO2-neutral.
Many thanks to all participating guests as well as our kind supporters Dorint Hotel Frankfurt-Niederrad, Lufthansa Cargo, and Radio Frankfurt.

We also like to thank our entire cross-industrial business partner network for their collaboration and support.